HERE'S SOME EXAMPLES OF FINISHED TAGS...


You can select from any tag SHAPE, COLOR or MATERIAL- We'll be happy to work with you to make your tag come out exactly as it appears in your imagination! We love custom work and making your tag a one-of-a-kind piece of personalized art!



By "WOBBLING" the laser beam we can mark lines of varying thicknesses as illustrated here... Our craftsmanship receives many compliments from our customers! We treat each tag, whether for pets, personal ID or just for fun with a commitment to excellence and quality-
YOUR SATISFACTION IS OUR MAIN CONCERN-
FREE REPLACEMENT IF YOU'RE NOT 100% HAPPY!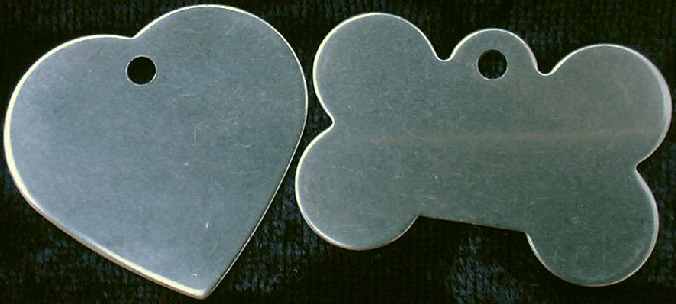 Most of the tag shapes we stock are available in your choice of SHINY STAINLESS STEEL or COLORED ANODIZED ALUMINUM. For best legibility, color and lightness choose aluminum. For the most durable tag, marked deep, choose steel.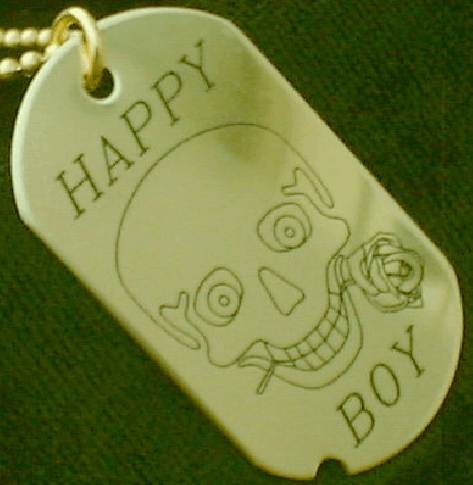 When we mark on BRASS you get your choice of natural engraving or we'll chemically blacken the mark free. We offer BRASS PLATES and GI TAGS in shiny, lustrous Brass! GI tags are available in highly polished jewelers brass as pictured here or in a stock brass that has a flat finish- a little less shiny.