SPECIAL TAG OFFERS AND DESIGNS!
Here are some of our most popular designs at popular prices!
Each tag comes with a 1/2" Nickel Steel Split Ring AND Neckchain Set at no added cost!
First tag is $5.00- each additional tag with an identical inscription is just $2.50 each!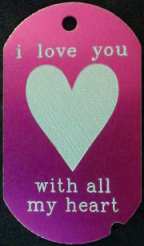 This tag expresses your true love for the lucky recipient! The heart is "filled" by the laser with parallel lines- this is one of our special "hatched" logos. The words can be as shown or any phrase you like! The back can also be engraved with any message you compose to make sure your loved one knows you care!
LUVHEART TAG- $5.00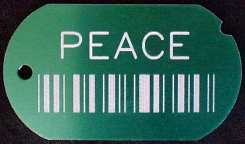 Want to have a qool bar coded tag like Max on Dark Angel? Now you can! Get this "PEACE" tag or any SHORT message you like in 6 of 9 bar code. These are able to be read by any laser bar code scanner as they use the most common bar code font. You can even get your name or nickname marked in bar code on any of our colorful anodized aluminum GI tags. BARCODE TAG- $5.00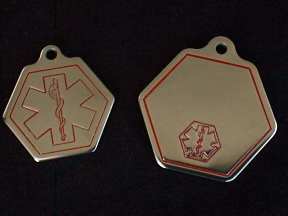 A Medical Alert tag marked with necessary medical information could save your life in an emergency. We offer 2 styles from which to choose. The smaller is 7 / 8 inch across while the larger one is 1 1/16 inch across- the latter has room on both sides for your inscription. They're both stamped and filled with red enamel paint as shown and are about 1/16 inch thick Stainless Steel. Used as a keytag or necklace they can help rescuers save precious time and communicate your special medical needs when you can't. These cost us more to offer than our other tags but our price is still the lowest you'll find for this kind of product.
MED-ALERT TAG- SMALL- $6.00 LARGE- $6.50
DESIGN AND MANUFACTURE TAGS TO YOUR SPECIFICATIONS! PARTIES-EVENTS-CLUBS-FAMILY REUNIONS

Here's an example of a custom design we made for a customer who wanted a unique giveaway for their Halloween party! We took their ideas and message and created this rather more complex graphic just for them! Now they buy these from us year after year with minor changes and their friends have come to expect the cool tags to add to their collections... What were offering here is to take YOUR designs and artwork, digitize them into laser ready files and produce unique mementos you can give away or sell as you see fit. There's a minimum order of 25 pieces and a one time digitizing fee that varies based on how complex your artwork is. Once your layout is created we can reuse it over and over to make tags for you as often as you desire.
Unfilled line art in a VECTOR format is the kind of artwork we need for lasering. Examples of vector files have the extension (last 3 letters after the "dot") of: .cdr- Corel Draw files; .dxf- Autocad files; .drw-Generic Cadd files or .plt- HPGL Plotter files. If you can send us this kind of a file there is no digitizing fee at all. Contact Us! if you're interested in exploring the possibilities!
We put the power of our industrial laser to work for you to create artifacts that will last for years!