FASHION TAGS FOR FUN AND SHOW!
Our "Fashion Tags" are intended and produced as a one-of-a-kind product
YOU DESIGN!
We are the only place on the net that you can get high quality laser marked tags
with your choices of CLIPART, LAYOUT AND MESSAGE!
Each Fashion Tag comes with a 1/2" split ring to make a keytag. If you want to use your tag as
a necklace you can order a Neckchain Set or Rawhide strip and extra large jumpring for just a dollar.
You can also order colored silencers made of rubber which wrap around the GI tags to give more protection and keep them from jingling for 50 cents each. Check out the ACCESSORIES page for more info!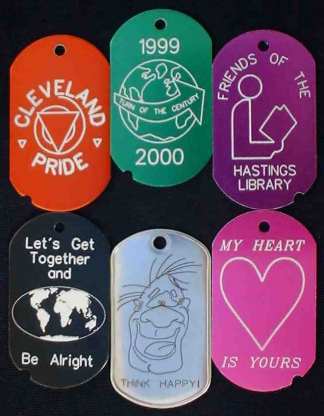 Here's how to get started...
1. Pick a tag material and color. We have anodized aluminum GI tags in red, blue, green, purple, pink or black.We also offer GI and 1 1/3" Round medallion tags in shiny stainless steel. We recommend using the GI or Medallion shapes because it allows alot of room for your designs and it's cool! If you want to use one of our PET TAG shapes you should just go there to order...Lasering on aluminum produces a white easily readable mark and makes it possible for us to "wobble" the lines to make them wider and brighter.
2. Create a layout of your design. Combine your text message and clipart as in the examples shown. Our CLIPART library has over 200 pics from which to choose. We also have some clips that aren't included in the library- if you have an idea for clips you think we should have just write us and we'll see what we can do. As you select from the clipart write down the PAGE NUMBER and CLIP LETTER. We'll need that info when it comes time to make your order. Remember- you have the option of having completely different layouts for each side if you wish with as many words and pictures as you can jam onto it!
3. Once you know what you want it's time to place your order. You can order online or by mail. If you want to send us a drawing of exactly how you want it to look you'll need to snail mail it. We have a prepared layout page here if that's the case. Just print it out, draw your design and mail it along with your payment. We'll do our best to match your layout exactly!
FASHION TAGS- Marked on ONE side only-$4.50 Marked on BOTH sides- $5.50
ORDER FORMS FOR ANY OF OUR PRODUCTS ARE HERE!
MEDICAL ALERT TAGS- HANDY WHEN YOU NEED 'EM!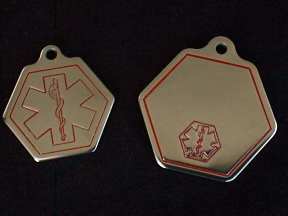 A Medical Alert tag marked with necessary medical information could save your life in an emergency. We offer 2 styles from which to choose. The smaller is 7 / 8 inch across while the larger one is 1 1/16 inch across- the latter has room on both sides for your inscription. They're both stamped and filled with red enamel paint as shown and are about 1/16 inch thick Stainless Steel. Used as a keytag or necklace they can help rescuers save precious time and communicate your special medical needs when you can't. These cost us more to offer than our other tags but our price is still the lowest you'll find for this kind of product. Includes a 1/2 inch Nickel Split Ring and we have several styles of Neckchain Sets for just a dollar more. THIS OFFER INCLUDES BOTH THE TAG AND THE ENGRAVING OF YOUR MESSAGE OF ANY LENGTH! WE DO NOT CHARGE BY THE LETTER OR LIMIT YOUR EXPRESSION! As always we format your text to be as large and legible as possible and recommend you keep it short and to the point, but that's up to you- WE ARE AT YOUR SERVICE!
MED-ALERT TAG- SMALL- $6.00 LARGE- $6.50
LET US KNOW WHAT YOU WANT IN A FUN FASHION TAG!
WE MIGHT JUST HAVE IT OR KNOW WHERE YOU CAN GET IT!